JA2013 - Chemicals in clothing
This product specific activity will allow the development of best practices and the exchange experience with carrying out market surveillance on dangerous products. The clothing activity will focus in particular on chemical risks providing an opportunity to build on what has been done within the recent children's fancy dress activity.
There are over 40 RAPEX notifications from 2012 and 2013 dealing with chemical risks in shoes, gloves and other items of clothing. The hazards include DMF, chromium and AZO-Dyes. The analysis undertaken for children's fancy dress under JA 2010 included a review of the chemical notifications for clothing showed that the principal chemical risk concerned AZO-dyes and Cr IV.
The participants Latvia, Malta, the Neterlands, Portugal, the Slovak Republic and Spain will carry out coordinated market surveillance in their national markets, sample dangerous products and send them for a joint testing.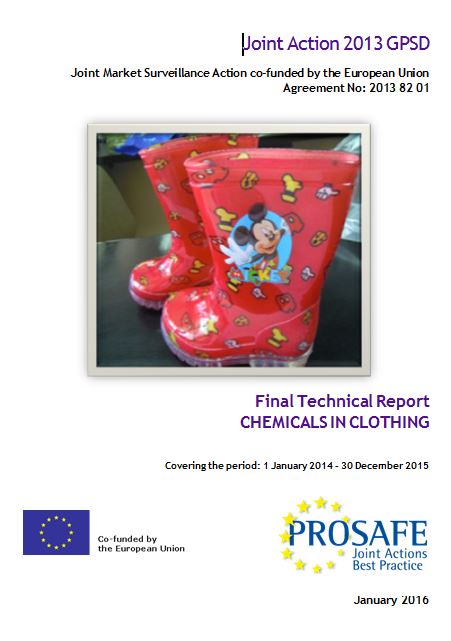 The JA2013 Chemicals in Clothing issued a Newsletter for stakeholders mid-term to give an update on the progress achieved so far. The working group is awaiting for the results from the testing of the samples they collected during the winter 2014/15. The project has a further twelve months to run and will conclude with the Final Workshop for JA 2013 which will probably be held in February 2016.
The Final Technical Report of this activity can be downloaded by clicking on the cover page of the report. Very interesting information can be found within this report and it is particularly useful for market surveillance authorities and anybody else interested to know more about safety aspects of cots and travel cots.
The Members of the Activity Chemicals in Clothing