Children's scooters may be classified either as toys, subject to the Toys Safety Directive (supported by the harmonised toys standard EN 71-1) or as sports equipment, subject to the General Product Safety Directive (and to the roller sports equipment standard EN 14619). The distinction between toys scooters and sports scooters is the subject of a Commission Guidance Document issued in 2012.
Between 2007 and 2013, there were 38 RAPEX notifications from 11 different Member States relating to kick scooters classified as toys and some classified as sports equipment. The main risks associated with the use of kick scooters are:
falls (cuts, grazes, bruises, sprains and fractures to the hand, wrist, arm and leg; dental, facial and head injuries);
entrapment of fingers (crushing);
contact with sharp edges and points (cuts, abdominal injuries).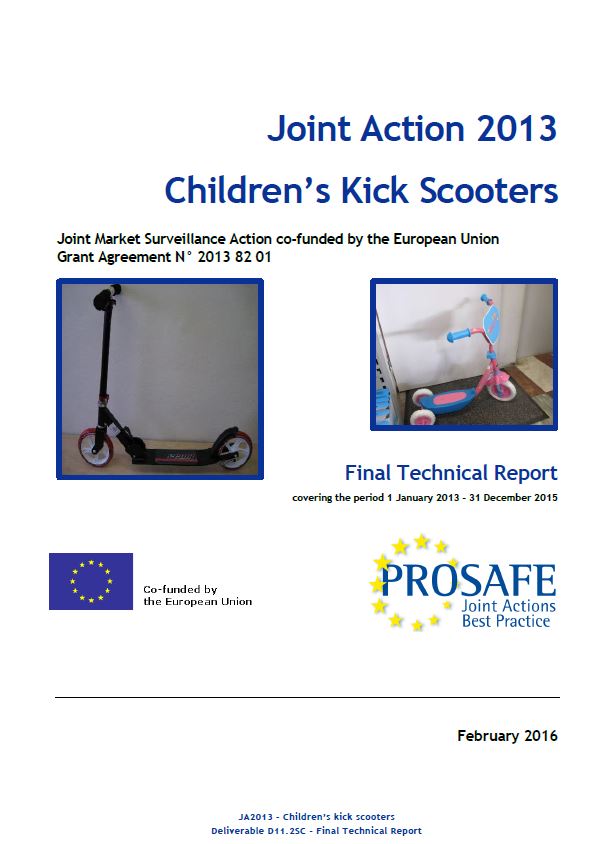 The most frequent defects notified concerned the size of the handlebar ends, gaps allowing the entrapment of fingers, the presence of sharp edges, insufficient strength of the steering column, the size of the front wheel and the lack of a rear brake.
This product specific activity will allow the development of best practices and the exchange experience with carrying out market surveillance on children's kick scooters. Moreover the primary objective is to detect and test dangerous products on the marketplace.
The Final Technical Report of this activity can be downloaded by clicking on the cover page of the report. Very interesting information can be found within this report and it is particularly useful for market surveillance authorities and anybody else interested to know more about safety aspects of cots and travel cots.