JA2014 - Safety barriers
The choice of safety barriers (otherwise known as stairgates) resulted from the priority-setting exercise in which 17 of 21 EEA states voted for this product. At the start of the JA2014, the EU Injury Database (IDB) data indicated that approximately 75 injuries to children 0-4 years of age involving child gates/safety barriers were serious enough to require a visit to the emergency department each year.
RAPEX data examined over the past 10 years preceding CCA4 showed reports of safety barriers – for entrapment of limbs, risk of strangulation (through width of bars, strength of bars or snagging/protruding parts) and risk of choking. Another aspect was the possible exposure to other hazards such as burns and poisoning.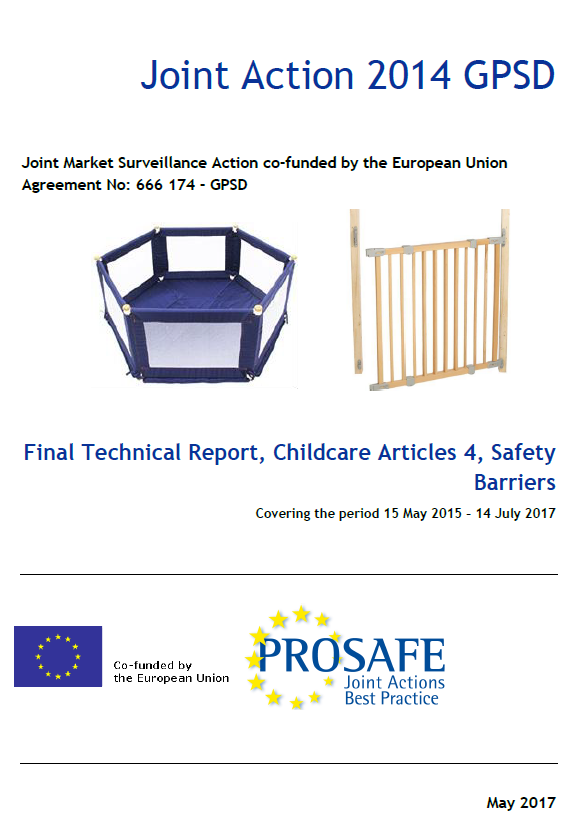 Market Surveillance Authorities from 12 EEA states worked together to examine whether Safety Barriers within the EU market are safe and carry the appropriate warnings and instructions. 112 products were tested in total (106 safety barriers, 3 playpens and 3 multi-functional barriers). The results of which can be found here. The CCA priority list was further updated by this working group, and as a consequence of this project, Cots will be further examined under JA2016 along with Baby Carriers.
The Final Technical Report of this activity can be downloaded by clicking on the cover page of the report. Very interesting information can be found within this report and it is particularly useful for market surveillance authorities and anybody else concerned to know more about safety aspects of stair gates.