The JA2016 Layman Report summarising the final project results is published!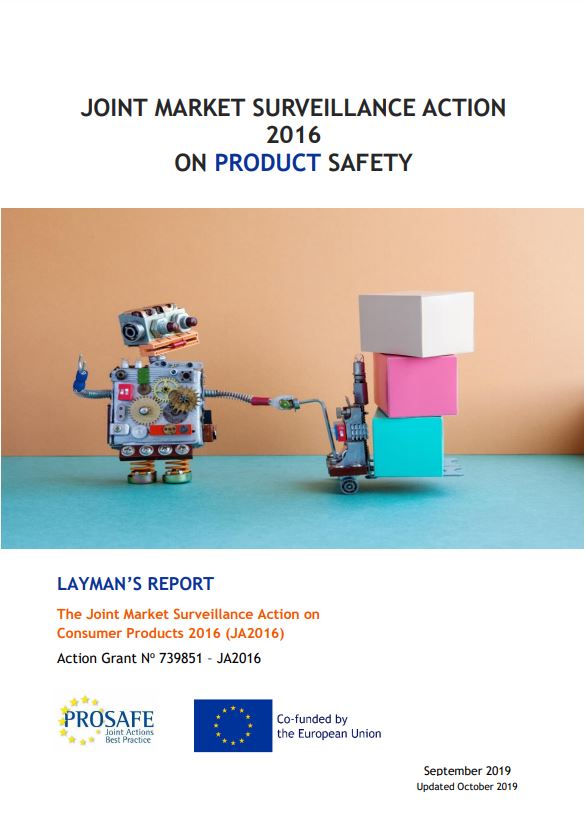 The Joint Market Surveillance Action 2016 (JA2016) on General Product Safety Directive (GPSD) products funded by the European Union, which started in September 2017 has finalised its activities in October 2019. To mark the end of this Action, we have published the Layman Report highlighting the project achievements and the final testing and inspection results.
31 Market Surveillance Authorities (MSA) from 24 countries worked together to ensure that the products falling into the following categories are not only safe for consumers but also compliant with the applicable requirements:
Child Care Articles – Baby Carriers and Cots;
Electric Toys;
Electrical Appliances – Hair Care Products;
Power Tools – Impact Drills;
Personal Protective Equipment – Climbing Equipment.
In total, MSA sampled and tested 756 products which were potentially unsafe or seemingly did not comply with the relevant EU legislation.
Besides inspection and testing activities, the Joint Action continued the development of methods that facilitate the work and cooperation between MSA such as:
Risk Assessment – promoting consistency between the methods applied by different MSA, JA2016 developed Risk Assessment Templates;
Continuous Improvement of Market Surveillance (CIMS) – enabling MSA exchanging of best practices during informal visits of authorities from other Member States;
E-learning – ensuring that MSA have access to good practices in Market Surveillance, JA2016 developed E-learning modules on topics such as Risk Assessment;
New and Emerging Issues – posing a problem to Member States while developing consistent approaches and effective solutions to address such issues. An early exchange of information is crucial, which was leveraged in this Joint Action.
Overall, the Joint Actions make a significant contribution to achieving a high level of consumer protection and a level playing field for all economic operators throughout Europe. Find out how JA2016 made a difference in the Single Market in the Layman Report.