Energy Efficiency Testing Pool 2020 (ENERTP2020)
Project Coordinator: PROSAFE
Timeline:

20 December 2021 – 20 De
c

ember 2025 (48 months)

The Energy Testing Pool 2020 – ENERTP2020 – is a 48-month long framework contract that will organize every year a multiple-products testing campaign of energy-related products under the Eco-design and Energy Labelling legislation. The first specific contract foresees the first kick-off meeting on the 23rd of September 2022 in the premises of PROSAFE (and in hybrid mode). 12 participating accredited laboratories from 9 EU Member States will join their forces to perform the most complete array of tests for energy-related products requested by the Market Surveillance Authorities (MSAs).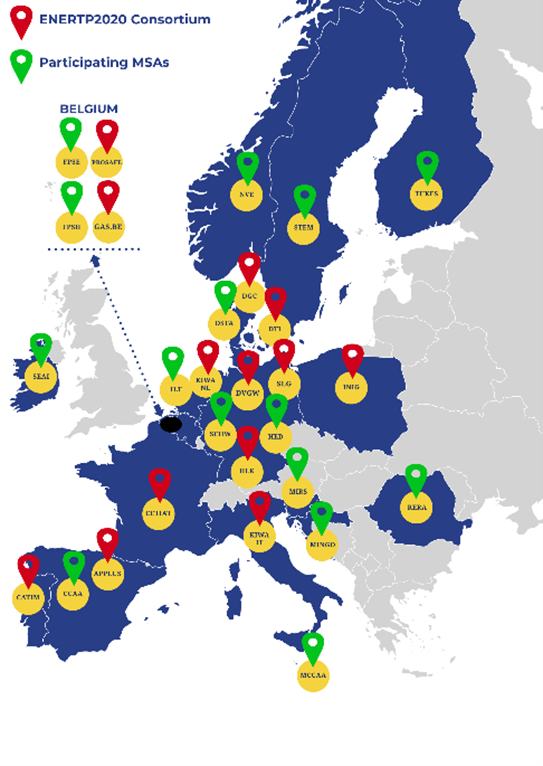 The single framework contract intends to deliver testing activities and ancillary services for certain products – selected by a group of 15 MSAs from 13 European countries in agreement with the European Commission.
The contract foresees testing activities for 7 EU Regulations regarding the following product categories:
• Household washing machines
• Domestic (gas and electrical) oven
• Gas/electrical hobs
• Gas/electrical range hoods
• Air-to water heat pumps
• Combination gas boiler heaters
• Electric driven air-cooled chillers
ENERTP2020 aims to raise the level of market surveillance for the products in question, thus decreasing the non-compliance rate for the energy-related goods in the Single Market. The timing is crucial – given the current energetic crisis we are all facing.
The key goals of ENERTP2020 are:
1) To help Market Surveillance Authorities (MSAs) evaluate the state of play in the market concerning Eco-design and Energy Labelling;
2) To ensure the energy efficiency of products in the European market is met – allowing for the achievement of the 2030 Energy Efficiency Targets;
3) To benefit the EU consumers and make sure they are confident about the products properly delivering the indicated energy saving.
The 12 laboratories collaborating with PROSAFE cover a broad European geoghrapical scope: Belgium, Denmark, France, Germany, Italy, the Netherlands, Poland, Portugal, and Spain.