Call for Tenders for Testing Laboratories - JAHARP2020-1 WP3 SAR Measurements on Connected Portable Devices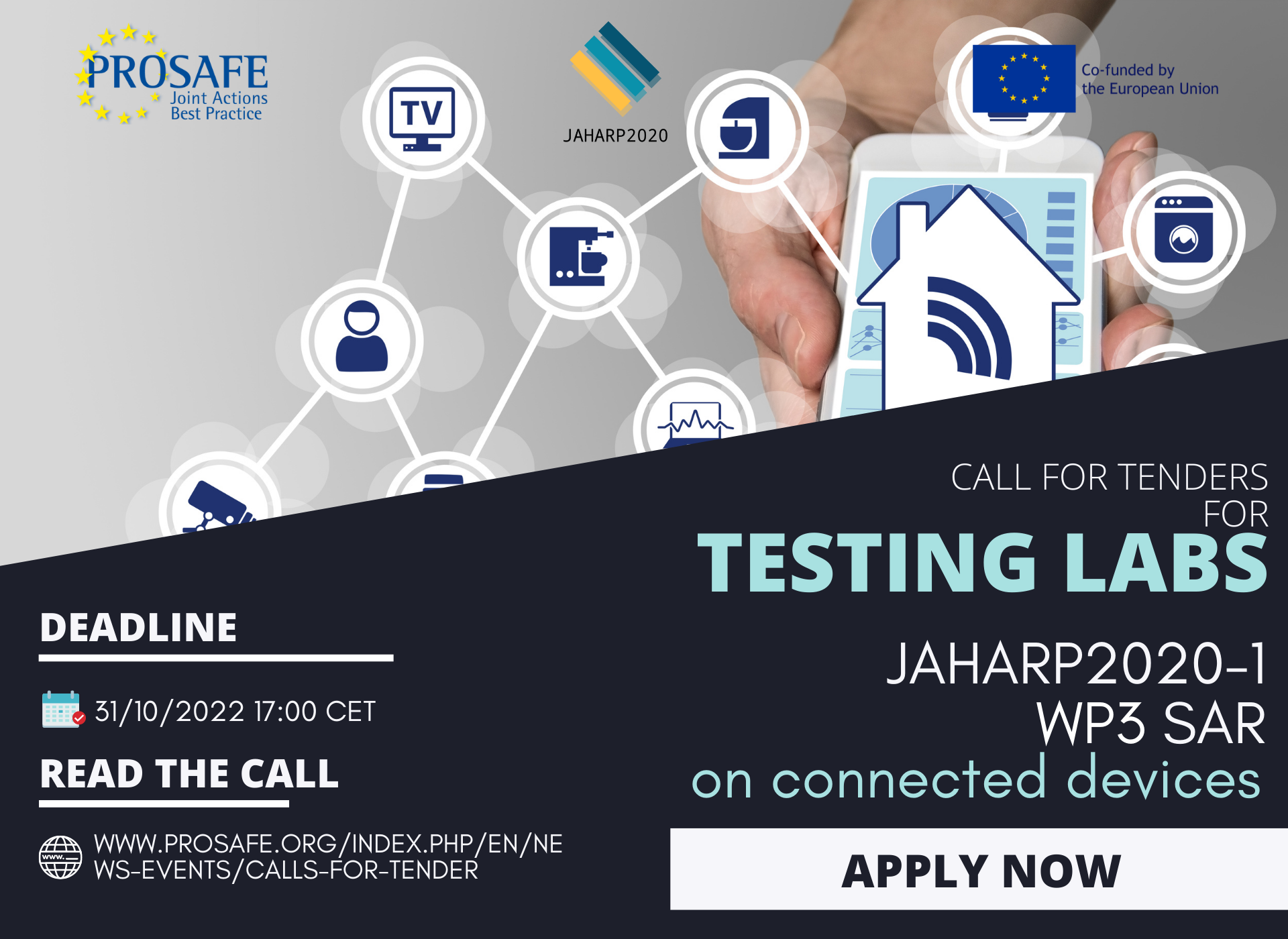 PROSAFE is launching a Call for Tenders for the Joint Action JAHARP2020-1 concerning the recruitment of accredited and independent laboratories. This work is part of Work Package 3 – Specific Absorption Rate (SAR) measurements on connected portable devices. Further details about the contractual and procedural elements of the call are included in the Official Call and Appendices.
Tenders must be sent to the offices of PROSAFE in hardcopy (Avenue des Arts/Kunstlaan 41, 2nd floor, 1040 Brussels, Belgium) AND via email to This email address is being protected from spambots. You need JavaScript enabled to view it. and This email address is being protected from spambots. You need JavaScript enabled to view it. with the subject header 'JAHARP2020-1 WP3 Tender' and copied to the Work Package Facilitator: This email address is being protected from spambots. You need JavaScript enabled to view it. by 31 October 2022 at 17:00 CET. Hard copies must be received at latest by 03 November 2022 — a stamp date being the proof that they were sent on 31 October 2022.
Any questions of clarification or other queries about the tender requirements or specification must be submitted in writing to This email address is being protected from spambots. You need JavaScript enabled to view it. AND This email address is being protected from spambots. You need JavaScript enabled to view it., and copied to This email address is being protected from spambots. You need JavaScript enabled to view it. with the subject header 'URGENT: Question for JAHARP2020-1 WP3 Tender'. Verbally addressed questions will not be answered, in fairness to all bidders.
Questions must be received by 21 October 2022 at 17:00 CET. Anonymised question(s) and response(s) will be circulated to interested bidders and posted on the PROSAFE's website: www.prosafe.org.
Background information
PROSAFE is the Project Coordinator of JAHARP2020-1. The Joint Action runs between May 2021 and May 2023 (24 months duration). Work Package (WP) 3 of JAHARP2020-1 addresses SAR measurements on connected portable devices. An important part of JAHARP2020-1 WP 3 is the testing of products for checking safety and compliance with the requirements of the applicable EU legislation and safety standards. This requires testing of products to the appropriate European standard in accredited test labs. The products to be tested are sampled, bought, and delivered to the selected lab(s) by the JAHARP2020-1 WP group concerned.
Useful documents