Joint Action 2016
The Joint Market Surveillance Action 2016 (JA2016) on GPSD products is a 26-month pan-European project in which 31 Market Surveillances Authorities from 24 Member States of the EEA participate under the coordination of PROSAFE. The Action is co-funded by the European Union.
In total, JA2016 sampled and inspected 756 products.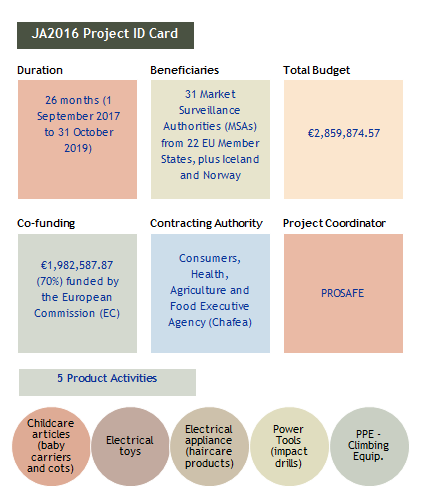 Timeline: 1 September 2017 - 31 October 2019
Newsletters: First Newsletter,Mid-term Newsletter, Final Newsletter
Toys Brochure:
Objectives
The primary objective of the Joint Action 2016 is to further develop the conditions needed for the Member States to cooperate successfully on market surveillance activities. Also, these actions aim to foster Best Practises Guidelines among Member States national authorities and to ensure a broader dissemination of the results of the products-specific market surveillance activities.
The Project
Through its product specific activities, the project targeted five product categories. These activities are purporting to increase the safety with a specific product or product category. These are:
The project also included a number of method development activities aimed at developing and maintaining best practices in risk assessment, the continuous improvement of market surveillance, e-learning and new and emerging issues. A number of horizontal issues that impact the implementation of the project have also been addressed. These include cooperation with customs, relations with stakeholders, feedback to standardisation and the application of best practices throughout the project.
The Participants
The Market Surveillance Authorities are from: Austria, Belgium, Bulgaria, Croatia, Cyprus, the Czech Republic, Denmark, Estonia, Finland, France, Germany, Greece, Iceland, Ireland, Latvia, Lithuania, Luxembourg, Malta, Norway, Poland, Portugal, Slovakia, Spain, Sweden.